This morning I accompanied Brigid to St Martin's Community Church, Collingwood. This is a real church, in a real inner city environment, with real people who have real issues to face. Get the idea?

The Church is the headquarters of Concern Australia, an inner city Christian Mission operation, which strives to focus on mission, advocacy and welfare issues. Read more (at the link above) to find out for yourself. If you are in Melbourne, go along to the Church at 215 Wellington St, Collingwood.

If you are, as I am, from a Catholic background, this is almost too real, too hard core to absorb. These people really believe that Jesus speaks to them, through the Gospel - and they take him very seriously indeed. None of your Gentle Jesus hocus-pocus here!

Fortunately, having had a few weeks introduction, courtesy of Brigid. I was prepared (almost) for this intensity of faith and commitment. Today's service was lead by Ann van Leerdam (and a most impressive person she is). Rev'd Dr John Smith preached the sermon, based upon the readings of the day, especially the Epistle of St James 2: 1 - 10, and 14 - 1 7.


My dear friends, don't let public opinion influence how you live out our glorious, Christ-originated faith. If a man enters your church wearing an expensive suit, and a street person wearing rags comes in right after him, and you say to the man in the suit, "Sit here, sir; this is the best seat in the house!" and either ignore the street person or say, "Better sit here in the back row," haven't you segregated God's children and proved that you are judges who can't be trusted?
Listen, dear friends. Isn't it clear by now that God operates quite differently? He chose the world's down-and-out as the kingdom's first citizens, with full rights and privileges. This kingdom is promised to anyone who loves God.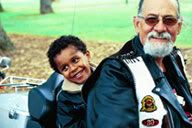 John Smith
is experienced in the non-wearing of "expensive suits" in his church, for it is directly opposite some of "The Towers" (high-rise apartments) in Collingwood. He is also the founder of the
God's Squad
- Australia, a Christian Motorcycle Club.
Today the congregation was mourning the loss of
Peter Brock
, who was the patron of one of their Outreach Services:
Hand Brake Turn (HBT),
which is a program "giving young people at risk the opportunity to get their life on track through an automotive training program".
*****
It was quite an eye-opening morning for young Denis, in Collingwood.